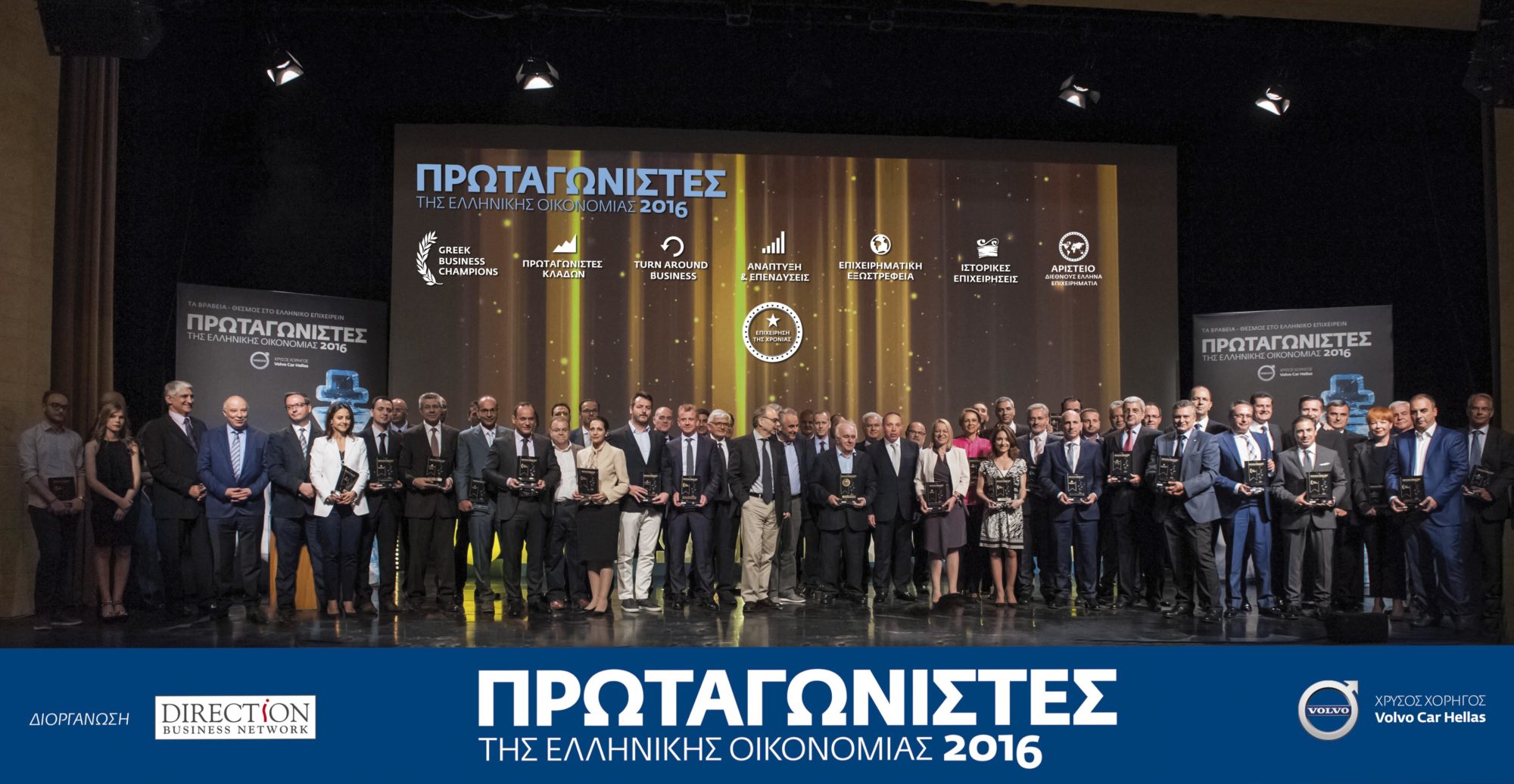 The real economy's Top Businesses, the market's Protagonists have been named in the third consecutive official "Protagonists of the Greek Economy" event that Direction Business Network organised on Monday, 15 May 2017. Businesses that continue to grow, to perform well and support the Greek economy, despite hardships and challenges, were awarded before 550 senior executives in the packed Banqueting room at the Athens Music Hall.
Initially, Industry Protagonists, comprising of leading businesses of the Greek economy's key industries were honoured, taking into account their turnover, gross profits and cash on hand. The businesses Kotsovolos Dixons South-East Europe SA (Electronic and Electric goods), Barilla Hellas SA (Pasta), Plaisio Computers SA (Computers – Technology), Elais – Unilever Hellas SA (Fats-Oils), Pavlidis SA Marbles-Granites (Marbles-Granites), Sani SA (Hotel Enterprises), Athenian Bed Mattress Manufacturing SA – Media Strom (Mattress Industry), TUI Hellas SA (Tourist Agency) and Vivechrom – Dr Stefanos D Pateras SA (Paint Industry) received awards in this category.
In addition, Lamda Developments and Papastratos SA were awarded for their efforts in the Growth and Investment sectors, while Bic Violex SA, Karelia Tobacco Company SA, Kleemann Hellas SA and Sunlight Systems SA were honoured for their Business Extroversion. Lapsa SA and Papoutsanis SA received Turnaround Business awards in recognition of their achievement to bounce back and grow in the current difficult economic situation.
Moreover, businesses that managed to increase their turnover by more than 20% while increasing their profits by more than 50% in the 2013-2015 two-year period received Greek Business Champions awards. Specifically, the following companies were awarded in this category: Andrikopoulos SA, ANEDIK Kritikos SA, Venetis AB & EE, Viacar SA., Cosmote e–Value, Frezyderm SA, Goldair Handling SA., Inventor A.G. SA, Kaflas V. SA, KPMG Consultants SA, Leaseplan Hellas SA, MEGA Disposables SA, Megaplast SA, Moustakas N Georgios SA, Barba Stathis SA, Palirria Souliotis SA, Pescanova Hellas LTD, Westnet Distribution SA and Zancou Shoes ΙA Kourouniotis SA.
Hellenic Post SA (ELTA) was awarded as the most historic business in Greece since it was founded in 1828, almost alongside the foundation of the Greece State, while the International Greek Entrepreneur Excellence Award, which was established from this year to honour entrepreneurs of Greek origin who have excelled beyond Greek borders was awarded to Gabriel Chaleplis of B2B Gaming Services.
Lastly, the highlight of the evening was the award for Company of the Year 2016, which was awarded to I & S Sklavenitis. This distinction resulted from the Greek business world. For the first time in Greece, 5,500 senior executives from the largest Greekbusinesses were asked to cast their votes to elect the company that would receive this major distinction this year. The pre-selection process, which was made by the event's Award Committee, resulted in the nomination of 20 major and influential Greek businesses.
The event was presented by the journalist Ritsa Bizogli, while the evening was launched by Evangelos Papalios, Publisher-Director of Direction Business Network, who highlighted that "awards were given to businesses that will pave the way to recovery and will lead the Greek economy to a new age. Companies that battled through the years of the greatest post-war recession that Greece had encountered and emerged as true Champions".
Ilias Xanthakos, Secretary General of the Ministry of Economy and Development, Lois Lamprianidis, Secretary General of Strategic and Private Investments and Antonis Papaderakis, Secretary General of Commerce and Consumer Protection of the same Ministry also addressed their greetings at the beginning of the event. Kyriakos Mitsotakis, President of the New Democracy Party was represented by Lefteris Avgenakis, MP for the Prefecture of Heraklion and Secretary of the New Democracy Political Committee, while Elena Kountoura, Minister of Tourism, also honoured us with her presence.
The "Protagonist of the Greek Economy" event falls under the auspices of the Ministry of Finance & Development and the Hellenic Federation of Enterprises (SEV), while Volvo Car Hellas was the event's Gold Sponsor. The companies Olympic Breweries (Kaiser Pilsner), Wind, Polichromo, Amvyx (Glenfiddich), Wundham Grand and Nespresso were also sponsors of the event.
https://direction.gr/wp-content/uploads/2017/05/AFB_4514-2.jpg
1036
2000
direction
https://direction.gr/wp-content/uploads/2018/01/direction-logo.png
direction
2017-05-17 12:19:15
2018-06-15 10:32:35
The "Protagonists of the Greek Economy" have been named