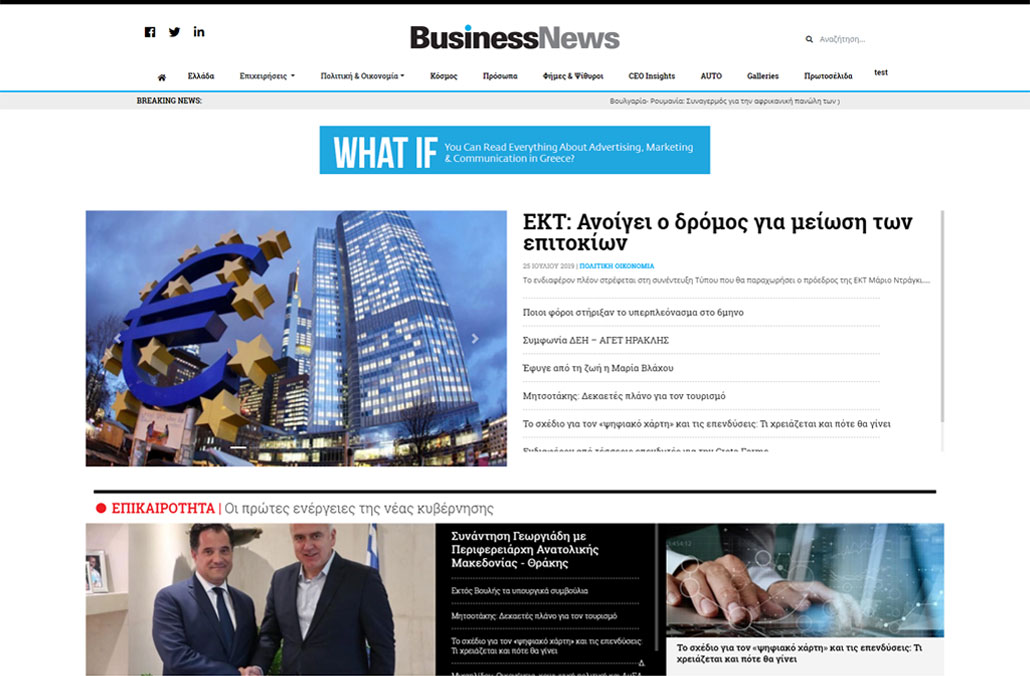 2
Reliable and up-to-date information
3
Focuses on and monitors the entire business market
www.businessnews.gr, Direction Business Network's news and business portal, is the true mirror of the market. Its goal is to present the major developments and events in every business sector, both in Greece and internationally, as well as the people who play leading roles on both the domestic and international business scenes.
With continuous, timely and reliable information, an excellent layout, quick and easy navigation, www.businessnews.gr offers the visitor direct access to and multi-faceted information about news and developments in the business world, through articles on and analyses of Greek and international developments.
www.businessnews.gr focuses on and monitors the entire business market, through the prism and philosophy that distinguishes all the efforts of Direction Business Network:
Reliability, accuracy, reporting, focusing on the major players in the market, supporting the healthy forces of the business scene, highlighting the people, businesses and practices that lead to new developments in each sector.
The businessnews.gr newsletter
The portal is supported by a daily e-Newsletter sent out to subscribers twice a day (in the morning & afternoon), which includes issues related to current events and the business sector.