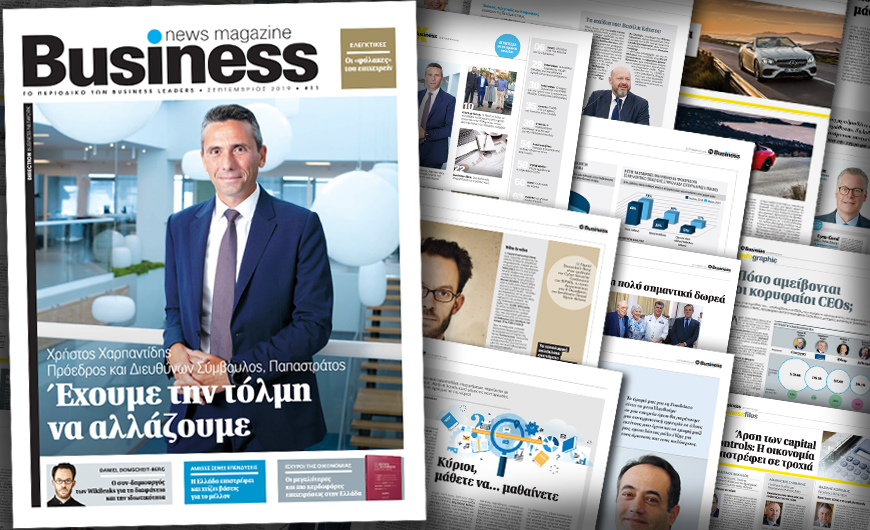 Issue 11 of Business News Magazine is now available
Special feature on auditing firms in the Business Leaders magazine
Issue 11 of Direction Business Network's Business News Magazine includes a featured interview with Christos Charpantidis, the president and CEO of Papastratos, who also graces the cover.
Having headed Papastratos since August 2015, he talks about the company's constant improvement, the new era for Papastratos in Greece following the €300-million investment in the Aspropyrgos plant, IQOS and the vision of a cigarette-free future. He also talks about the Greek economy, the strategy and philosophy that make Papastratos stand out, and his great love of sports and the sea.
The new issue of Business News Magazine also includes an in-depth report on auditing firms in Greece, presenting their finances, their major clients, the challenges they are facing and the plans they are implementing, via statements from company heads. Also presented are complete financial data on the largest and most profitable companies in Greece.
In the new issue, you will also find interviews with the co-creator of Wikileaks, network security expert Daniel Domscheit–Berg; the CEO of Foodrinco, Giorgos Bytogiannis; and Maria Kokali, the 18-year-old who "stole the show" at the latest SEV General Assembly. Finally the new issue looks at, among other things, the brain-drain problem, the best-paid CEOs on the planet, how market organizations see the lifting of capital controls, and Greece's return to the investment map.
Business News Magazine is sent to 5000 high-ranking executives and heads of the 1,500 largest businesses in the Greek market, as well as to anyone with an active interest in developments and trends in modern business in Greece and beyond. It includes presentations of businesses, sectoral research, exclusive interviews with CEOs, opinion pieces and news reports, as well as retrospectives of historic Greek businesses, covering a wide range of domestic and international entrepreneurship.
Guided by the belief that only healthy entrepreneurship can serve as a catalyst for Growth, Business News Magazine is Direction Business Network's newest endeavour, complementing its effort to support business in our country through the businessnews.gr portal, the annual publication The Strongest of the Greek Economy, and the "Protagonists of the Greek Economy" awards.
https://direction.gr/wp-content/uploads/2019/10/BNM-11-promo.jpg
530
870
direction
https://direction.gr/wp-content/uploads/2023/02/30-years-DIRECTION_PAPALIOS_200.png
direction
2020-03-03 11:33:21
2020-03-03 11:33:21
Issue 11 of Business News Magazine is now available