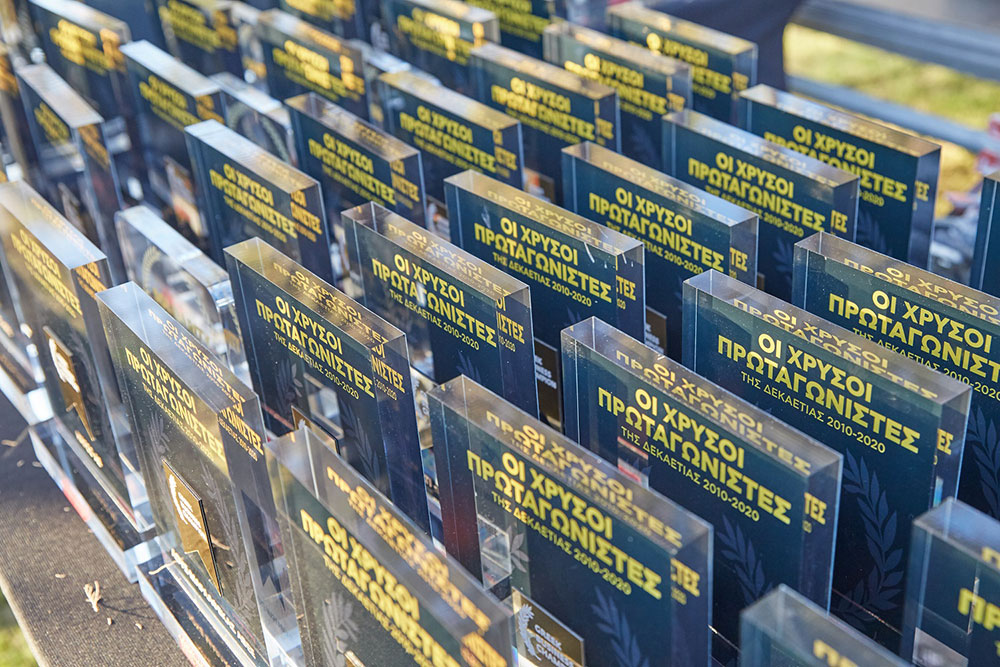 Gold Protagonists 2010-2020
Business of the Decade: Hellenic Hypermarkets Sklavenitis
For the sixth time, Direction Business Network organised the awards-institution of the Greek business world
The businesses that stood out for their economic performance during the decade from 2010 to 2020 were honoured by the awards-institution of the Greek business world, "Protagonists of the Greek Economy," which Direction Business Network hosted for the sixth time, on Monday, 19 July 2021.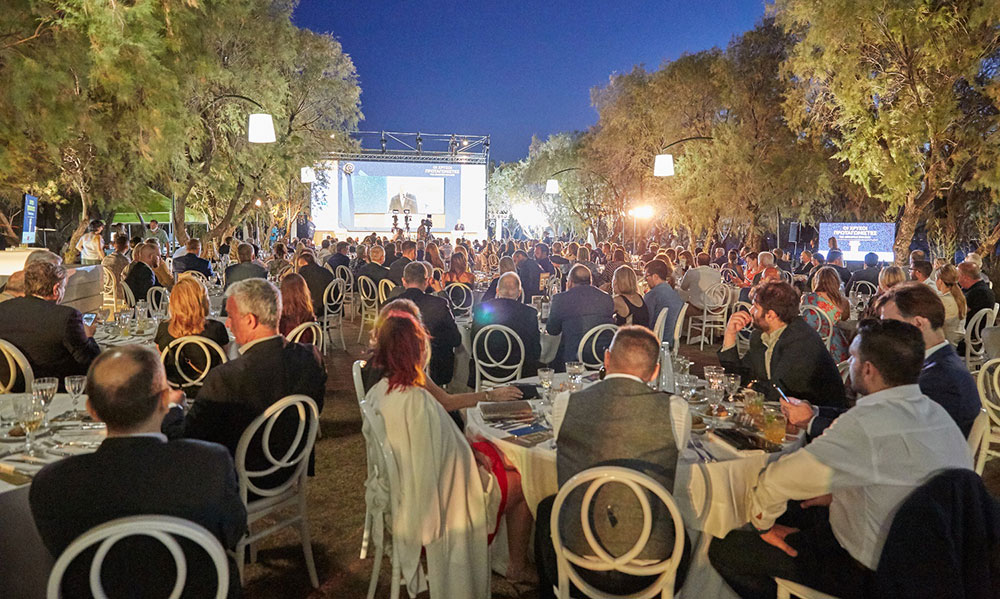 At Ble Azure on Alimos Beach, with over 300 high-ranking business executives and representatives of academia in attendance, businesses were acknowledged for finding a way to rise to the challenges of a very unique and difficult time for the Greek economy, emerging stronger from the country's years-long economic recession.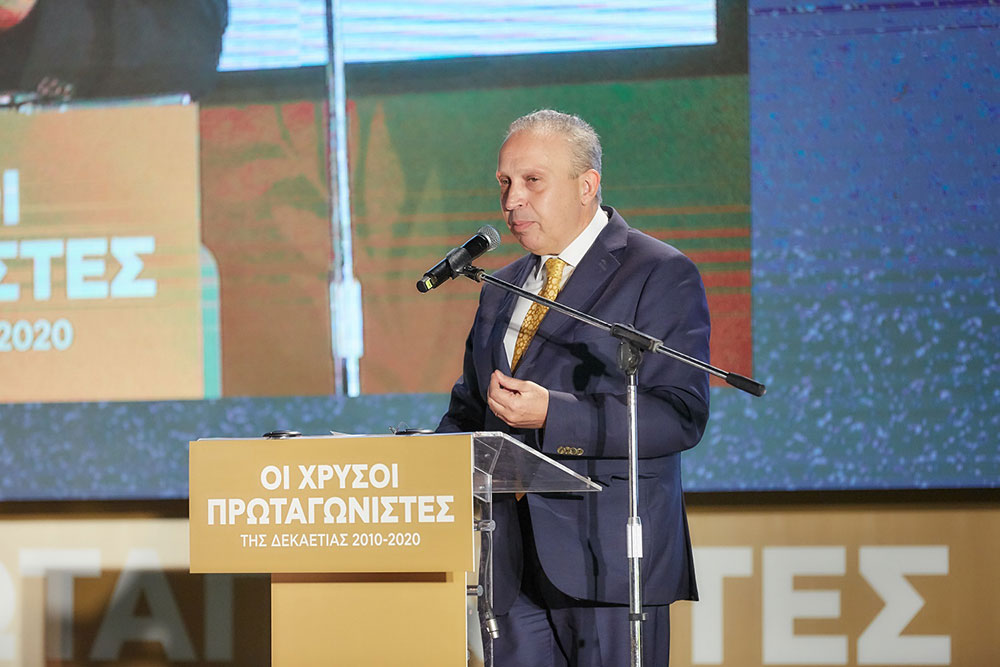 The awards were given based on the companies' official financial data as set out in the detailed financial reports included in the publication "The Strongest Greek Companies," by Directions Business Network, which just came out and is also dedicated to the decade from 2010 to 2020.
More specifically, the first to be honoured were the Industry Protagonists: leading businesses in key Greek industries, based on cumulative turnover and total earnings before taxes for the financial years from 2010 to 2019. The winners in this category were Β&F Clothing (Clothing Industry), Bold Ogilvy Communication (Advertising Companies), The Mall Athens – Lamda Development (Shopping Centres), PPC (Energy), OLYMPIC Commercial & Tourism Enterprises SA-ΑVIS (Car Rental and Leasing), Athenian Brewery (Brewery), Barilla Hellas (Pasta), Plaisio Computers (Computers – Technology), Athens Medical (Medical Services), Papastratos (Tobacco Products), Hellenic Petroleum (Petroleum products), Kotsovolos Dixons South East Europe (Retailers of Electrical and Electronic Products), AB Vassilopoulos (Supermarkets), ACS Postal Services (Courier Services), PEI.FA.SYN (Pharmaceutical Wholesalers) and MEGA Personal Hygiene Products (Personal hygiene paper products – Tissue).
Additionally, Karelia Tobacco, Med Frigo-Cargo Med Group, Papastratos, Pharmathen and Uni-Pharma (Tsetis Pharmaceutical Group) were honoured for their significant moves in the areas of Development and Investments, with Karelia Tobacco and Papastratos also receiving awards for standing out in the field of Business Openness, as did Lakiotis SA.
Turnaround Business awards were conferred on Famar and McCann Erickson, in recognition of their achievement in overcoming any difficulties they faced and returning to a growth trajectory.
Awards were also received by the Greek Business Champions of the Decade, which managed to simultaneously increase their turnover and earnings before taxes by more than 50% between the financial years of 2010 and 2019.
More specifically, the following companies received awards in this category. Theoni Natural Mineral Water, Ioannina Agricultural Poultry Cooperative PINDOS, Carrier SE Europe, Aktina, Amvyx, Anastasopoulos G. Vasilios, ANEDIK Kritikos, Astellas Pharmaceuticals, Venetis, V+O, Viakar, BIC Violex, Violanta, Carat Communication Services, Cosmos Aluminium, Cosmote E-Value, Gregory's, DSV Hellas, Entersoft, Eurocatering, European Reliance, Macedonia Thrace Brewery, Granarolo Hellas, Hafco, Intertrade Hellas, IFET, KALTEQ SA, KARELIA TOBACCO INDUSTRY, Cosmos Sport, CREAMTEAM, LOUX Marlafekas, Majar – Matzaridis Bros, Manessis Travel Organization, Mati – Mati, MEGA Personal Hygiene Products, Metron Engineering, Mediacom, Moustakas Toys, Bakalaros Group, Navicon, Nef – Nef, Novastar, Olympia – Xenia, Olympic Brewery, Med Frigo – Cargo Med Group, Papastratos, Pescanova Hellas, Pet City, Pharmathen International, Pot & Pan Foodservice, Premier Capital Hellas, Prometheus "Avance", Tseti Ioulia & Irini 'Intermed', U.T.C. International Transport, Uni – Pharma Kleon Tsetis, Pharmathen, West SA and Westnet Distribution.
Solidarity Excellence Awards were also given out this year. These awards honoured the commitment to the value of human life and the social solidarity demonstrated following the appearance of the Covid-19 pandemic by the companies The Mall Athens – Lamda Development, PPC, Olympic-ΑVIS, Athenian Brewery, Barilla Hellas, Plaisio Computers, Athens Medical Group, Papastratos, Hellenic Petroleum, Kotsovolos Dixons South East Europe, AB VASSILOPOULOS, PEI.FA.SYN, MEGA Personal Hygiene Products, Karelia Tobacco Industry, Pharmathen, Uni-Pharma (Tsetis Pharmaceutical Group), Famar, Theoni Natural Mineral Water, ANEDIK Kritikos, Astellas Pharmaceuticals, Violanta, Cosmos Aluminium, Eurocatering, European Reliance, Macedonia Thrace Brewery, Info Quest Technologies and Olympic Brewery.
CVC Capital Partners was honoured for its dynamic investment activity in our country. CVC Capital Partners is one of the largest fund management companies in the world and has invested over €1 billion in Greece since 2017, in various sectors.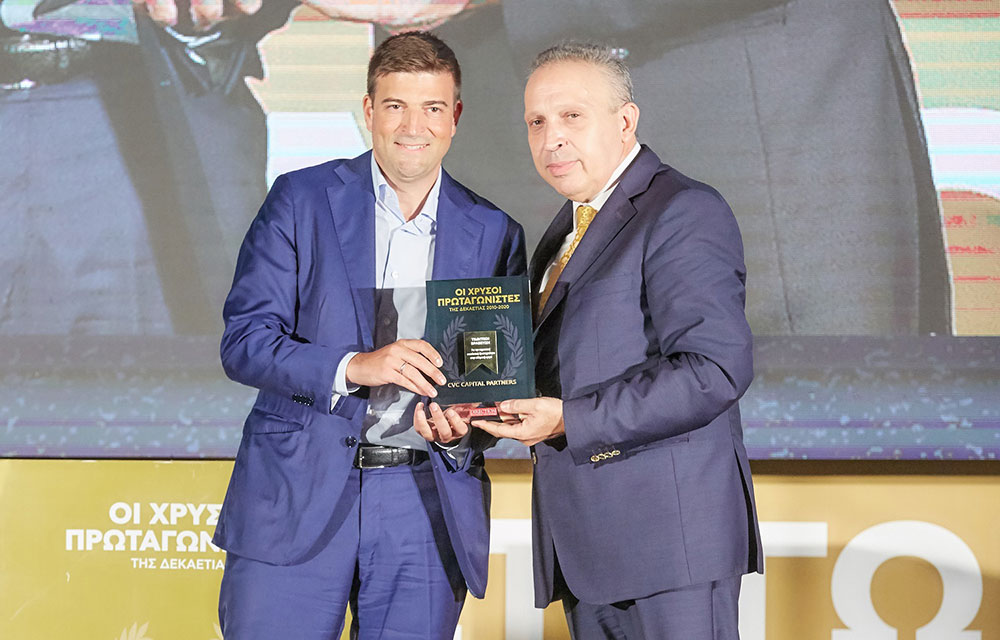 Finally, Hellenic Hypermarkets Sklavenitis won the top distinction in this year's event, following a vote by 8,500 senior executives from major Greek enterprises. The candidates were 20 of the most important Greek enterprises, with positive growth trends in the decade from 2010 to 2020, resulting from a pre-selection process carried out by the event's special award committee, after reviewing their financial data and their general image and progress in the market. The award was received by Christos Maragkos, the company's Management Advisor for Markets, who referred to the "great struggle" he had mounted over the past decade, also mentioning the late Stelios Sklavenitis. "We miss him, but we are certain that, from on high, he is proud of our growth," he said.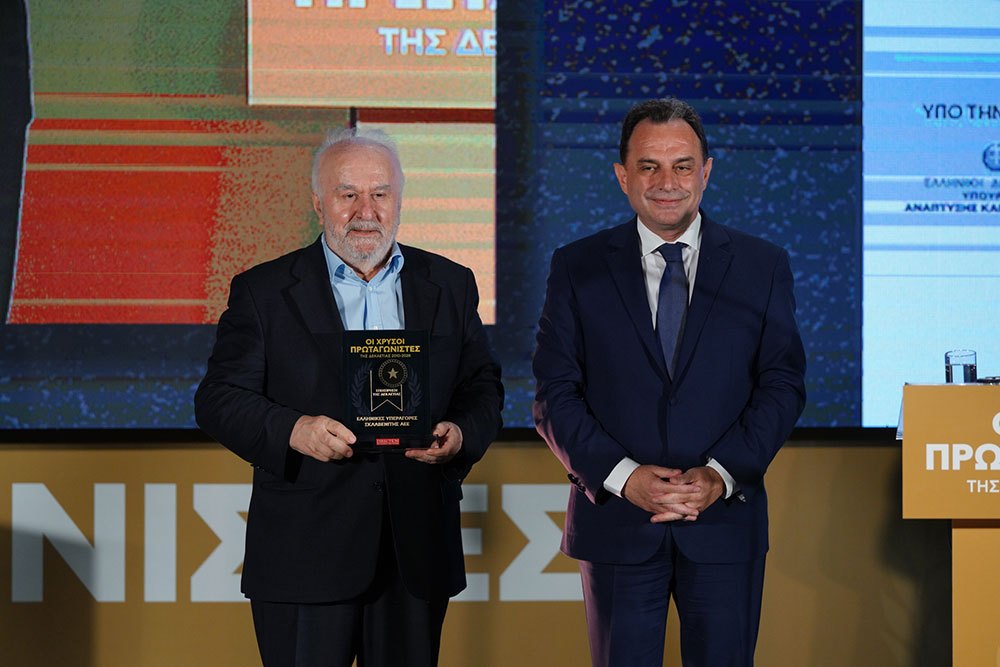 Deputy Minister of Digital Governance Giorgos Georgantas conferred the highest distinction, noting, among other things, to the honoured businesses: "The government is trying – and I think the results are apparent – not to be an obstacle to your entrepreneurship. We are trying to create a safe and investment-friendly environment in which you can grow even further. We are not just removing obstacles; we are also trying to create the right conditions."
The event was moderated by journalist Nikos Filippidis, and the evening was opened by publisher/director of Direction Business Network Evangelos Papalios, who, among other things, stressed that "enterprises that succeeded through systematic work, long-term planning, continuous investments, composure in strategy and calm in their moves must now be ready to conquer even higher peaks from here on," underscoring that everyone involved must rise to the circumstances and capitalize on the Recovery Fund for Greece.
The Award Ceremony was also honoured by Minister of Finance Christos Staikouras, who, in a videotaped greeting, said that the winning enterprises "are driving the country and the economy forward and are a precious asset for us to continue into the next decade, which can and must be a period of rapid and strong recovery and high and sustainable growth following the test of the pandemic." He also referred to the Greece 2.0 plan, which, he said, "strengthens reform, investment and the economy, and is a springboard for changing the country's economic model towards a more competitive, innovative, smart and green production model."
The event was held under the auspices of the Ministry of Development & Investments and was sponsored by Info-Quest Technologies and Accomplish Financial. The Telecoms Provider was Wind, with supporters including the Eza-Hellenic Breweries of Atalanti, asterias creative design, Theoni, Amvyx (Glenfiddich) and Weber Shandwick. Also supporting the event were Pressious Arvanitidis (Printing), Polichromo (Digital Printing), Hellenic Wine Cellars, Sound & Visual K. Papathanasiou, WeforMedia, Image Pro, Vision, Happy people team, Εvin Intzoglou (Οfficial Partners), Mass Courier (Deliveries) and eventora (voting platform).
*The Award Ceremony is available for viewing
https://direction.gr/wp-content/uploads/2021/07/ΤΑ-ΧΡΥΣΑ-ΒΡΑΒΕΙΑ-ΤΗΣ-ΔΕΚΑΕΤΙΑΣ.jpg
667
1000
direction
https://direction.gr/wp-content/uploads/2023/02/30-years-DIRECTION_PAPALIOS_200.png
direction
2021-07-22 08:38:06
2021-09-02 09:43:56
Gold Protagonists 2010-2020