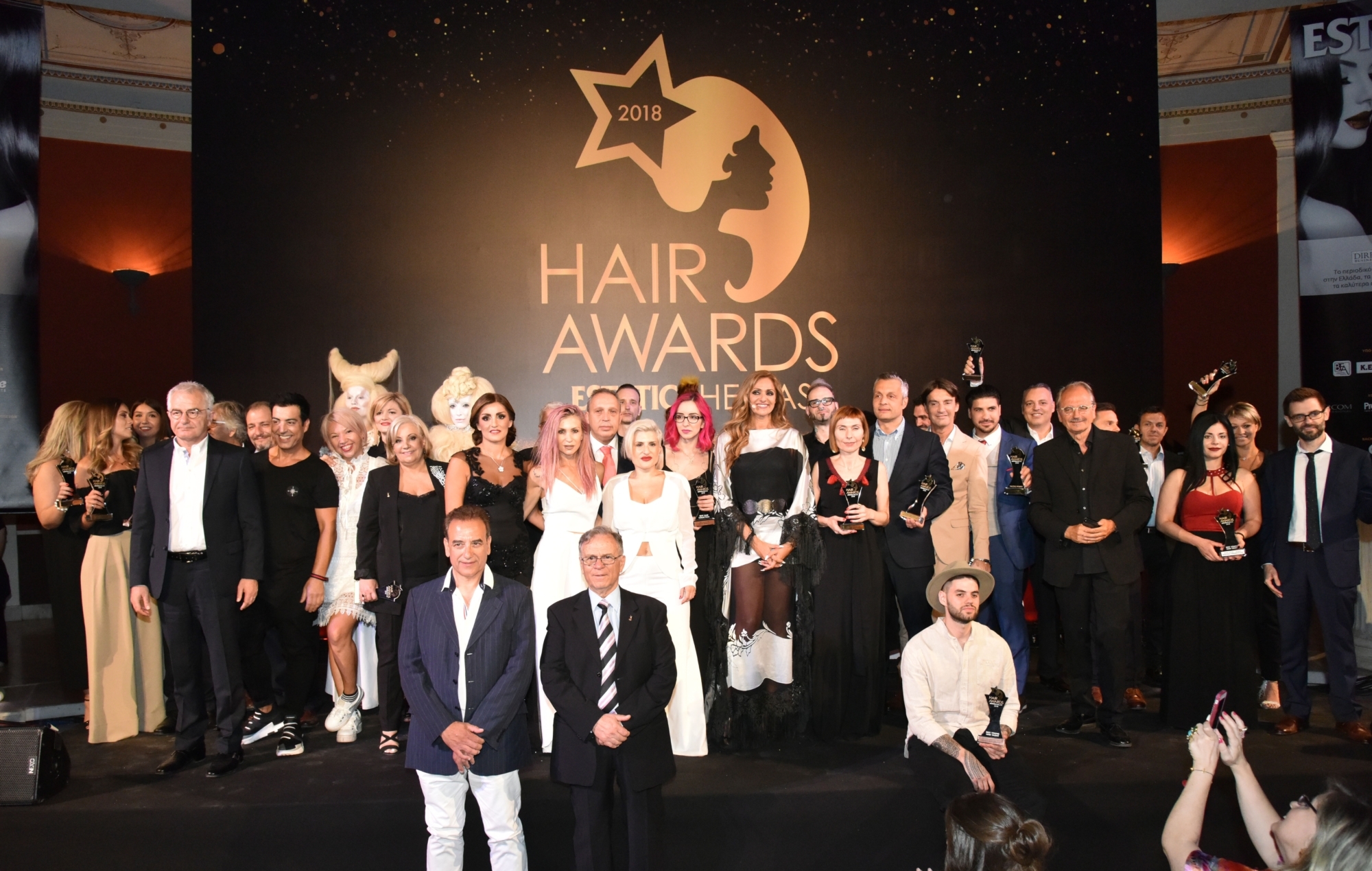 The winners of Hair Awards by Estetica Hellas 2018
Glamorous and distinguished guests attended Hair Awards 2018 of Estetica Hellas, which took place in Zappeion Hall for the third consecutive year.
Estetica Hellas's Publication  Director, Frini Latou, welcomed the attendees to the great night of hairdressing art, which has also highlighted the best products and services of 2018.
According to the publisher of Estetica Hellas, Vangelis Papalios,  "Hair Awards are the culmination of Estetica Hellas's 16-year presence in the Greek market". He also stressed the importance of the new category of Hair Awards, Best Young Hair Stylist.
The awards
The main distinctions and awards of the year are as follows:
Partner of the Year: Wella
Training of the Year: Wella
Launch & Campaign of the Year: Wellaplex by Wella
Professional Tool of the Year: ghd by wella
Best Artistic Team  of the Year: Prestige Telis Kikeris
Hair Care / Specialized Therapies: Bioproten Hairplex by Farcom Professional
Women Hair Care: Wella Professionals "Fusion"
Women Hair Styling: ΕΙΜΙ by Wella
Men Hair Care & Styling:  Seri Styling Gel by Farcom Professional
Dilution and thickening treatments: Nioxin – Wella Professionals
Lightening Product: Blondor by Wella
Permanent oxidative dye: Koleston Perfect  by Wella
Painting in the same tone / semi – permanent: Color Touch by  Wella
Best Hair Collection & New prize category
This year, the winners of the category  Best Hair Collection were:
Gino hairandmore won the Platinum Award, Ioanna Tzani won the Golden Award, Prestige Telis Kikeris the Silver, while the Bronze Award was given to Elena Verykiou.
The awards to the new category, Best Young Hair Stylist Award, were the following:
Gold Award, Elena-Maria Kapageridou
Silver Award, Anastasia Efremopoulou
Bronze Award, Alexandros Mattas
In addition, Honorary Awards were given to Efi Arvanitaki – Intercoiffure,  Kirikos Vasiliadis- Mod's Hair and  George Sfakianakis-Teo Hair Design 40 Years- as a recognition for their long term contribution to hairdressing art.
Also, honorary award was allocated to Farcom, for the 48 Years Presence in Greek Cosmetic Industry  and to TSVL Hair Therapy, for the initiative of Hair Therapist Expert.
As an opening act of Hair Awards, the collection Athena by Tranoulis Haute Couture, which is part of the initiative " Take Me Home", for the return of the Parthenon marbles to Greece, was presented.
What is more, the event was honored by the publisher and director of Estetica Italia, Roberto Pissimiglia.
Particularly impressive was the closing of the event, when models from a total of nine hairdressing groups came to the stage, presenting  special hair trends.
Sponsors
Wella Professionals was the Golden sponsor of the event.
Highlife, Prestige Telis Kikeris and Farcom Professional, were sponsors as well. Pressious Arvanitidis  was typing sponsor, Commo Interiors was the backstage sponsor and Amuse Concept Events, the Event Sponsor.
It is worth noting that the awards were held under the aegis of the Industrial Chamber of Athens, the Artistic Union of Greek Hairdressers and the Hellenic Cosmetic,Toiletry & Perfumery Association.
Finally, KPMG was the supervising agency.
https://direction.gr/wp-content/uploads/2018/06/winners-1.jpg
1269
2000
direction
https://direction.gr/wp-content/uploads/2023/02/30-years-DIRECTION_PAPALIOS_200.png
direction
2018-07-03 13:48:55
2018-07-03 13:48:55
The winners of Hair Awards by Estetica Hellas 2018